Tired of having the same plans for your holidays this year as you've done over and over in the past?  Why not get your family and friends together for a new kind of winter retreat?  Enjoy luxurious lodging, fine dining, nearby holiday attractions, and relaxing rounds of golf–all at the Eagle Point Golf Club.
Never thought about golfing in the winter months?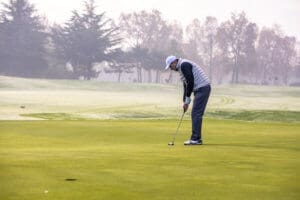 Yes, we all enjoy spending beautiful, sunny afternoons meandering from hole to hole on the golf course under clear, blue Southern Oregon skies.  However, winter weather has its own delights.  Seeing the sun burn off the fog and gazing at the snow-topped peaks of nearby mountains while taking in the cool, crisp air is an exhilarating experience all its own.  Here are a few tips for golfing in winter weather:
Wear layers.  It's bound to feel much chillier when you begin your game than when you're halfway through the course.  Thermal underwear with several light layers will keep you warm without getting in the way of your swing.
Wear moisture-wicking fabrics and waterproof shoes.  Having the proper clothing to keep rain, frost, and moisture away from your skin will go a long way in keeping your body warm.  There's nothing worse than stepping in a puddle and dealing with cold, wet socks for the rest of the game.
Choose to walk the course if you can.  If you can physically walk the entire course, then leave the golf cart at the parking lot.  Walking is excellent for your health, and getting your blood circulating will keep you warm.
Grab a warm hat.  During the summer, it's essential to keep the sun's rays out of your eyes and off your head and neck.  As the weather turns cold, it's more critical to keep your head and neck warm.  Select a hat with flannel or cotton lining and a waterproof exterior.
Don't forget your sunglasses.  The sun can still be very bright and glaring, even if it's cold outside.  Keep a pair in your golf bag in case you need it!
Focus on fun, not achieving a new personal best.  Winter conditions do make playing the game more challenging.  Leaves, puddles, rain showers, and chill will all inevitably get in the way of achieving a great score.  During these times, it's more important to take it slow, enjoy the natural beauty, be open to new challenges, and forget about the score.
Plan other indoor activities between your golfing games.  Schedule time within your itinerary to enjoy other activities such as wine tasting, shopping, catching a movie, or going on a pub crawl.  You'll have a chance to warm up and balance the time you're spending in the winter weather.
Ready to plan your holiday golfing adventure?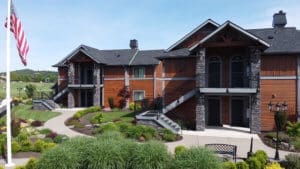 We'd love to help you plan the ultimate holiday golfing getaway!  Simply call our team at the Eagle Point Golf Club, and we'll work with you to create a golfing package your whole family will enjoy.  Stay in our boutique accommodations at the Chalets at the Resort at Eagle Point, enjoy fine dining at the Talon Grill, and plan for an excursion or two to local Southern Oregon attractions.  Every day is a great day for golf in Southern Oregon, and there's something for everyone to enjoy nearby.  Make this holiday season one to remember.