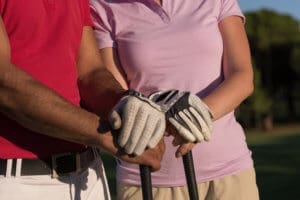 Even if you have a regular group of buddies who regularly get together to golf, there are a lot of benefits you'll enjoy if your partner also likes to golf with you.  Activities are more fun when your partner is involved because you'll have a shared interest to talk about away from the course.  Golfing is a great way to better your cardiovascular health and work on physical skills such as balance and dexterity.  And best of all, when you get your partner golfing with you, it inevitably means you'll have more guilt-free opportunities to enjoy a day on the greens.
If you're not lucky enough to have a partner who already knows how to golf and enjoys the sport, then you've got a little work to do in the encouragement arena.  There are two common reasons your partner may be averse to taking up the sport:  first, it may seem like there's a lot to learn to golf productively, and second, they feel they won't be able to golf as well as you.
Make it easy to learn.
You and your partner can easily overcome the first concern with a few beginner lessons.  At Eagle Point Golf Club, we offer small group and individual classes to help new golfers gain introductory skills for the game.  We know people can be very intimidated by all the equipment and precise movements, so we break down lessons into manageable chunks that players can easily practice on the course.
Make it easy to compete.
There are a few ways to manage the second concern–the gap between a newbie's skill level and that of a regular golfer.
Feeling accomplished is an essential element in learning a new skill, so the course is set up to provide challenges appropriate to all skill levels from beginner to professional.  At Eagle Point Golf Club, there are six tees available to choose from at each hole, with driving distances between 5,091 and 7,099 yards.
Next, new players need to learn how to use handicaps in calculating their scores effectively.  Most new players are unaware of this practice or how it helps to level the playing field between players with various abilities.  A player's handicap index is based on their average scores on 18-hole courses.  Each newbie has to play at least five complete 18-hole rounds before a score can be calculated.  The easiest way to do this is to work with the club's pro trainer or join a USGA-authorized women's or men's golf club organization.
Once you have your handicap, the information reduces the number of strokes in the final score.  Some methods make it easy and reduce the final score by a set number of strokes.  Other approaches consider the complexity of each hole to determine if any strokes should be removed based on your score for that hole.  Regardless of the method chosen, using a player's handicap makes it easier for a newbie to play the game with an experienced golfer without becoming discouraged or disillusioned.
Make it irresistible to try.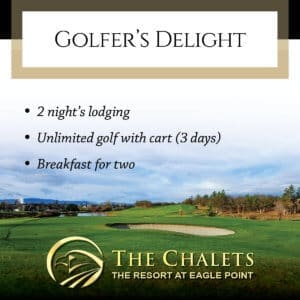 We have the ultimate solution for enticing your partner to come out and play a game of golf or two with you.  There's no way they'll be able to resist a Stay-N-Play getaway at the Resort at Eagle Point.
The Resort at Eagle Point is offering a special "Golfer's Delight" Stay-N-Play package for a limited time. Enjoy reduced rates with a minimum two-night stay that includes unlimited golf (and a cart!) during your stay.  What more could you ask for than luxurious lodgings in The Chalets where you can sit back and relax after spending the entire day out on the course?  We'll even throw in breakfast for two at the Talon Grill to complete the package!  Simply give us a call at 541-826-8225 to reserve your next getaway with us.  Act quickly; this special offer ends on March 31, 2022.