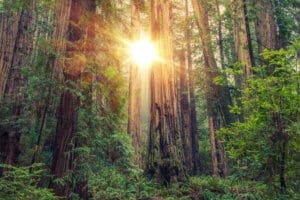 Did you know the average age of a Redwood is 500 to 700 years?  These towering evergreens have adapted to become highly resistant to wildfires. Provided they can escape fatal damage or disease, a Redwood can live to be over 2,000 years old and grow to nearly 400 feet in height. It's hard to stand next to one and not get lost thinking about how much history the tree has witnessed in comparison to our very short time alive on Earth.  Setting aside an afternoon to explore the majestic Redwoods of Southern Oregon will be a rewarding activity for your next stay-and-play golfing getaway at The Resort at Eagle Point.
More Interesting Facts about the Redwoods of Southern Oregon
Redwoods are more specifically named sequoia sempervirens, which means sequoia ever-living.  You may think this is because of the long lifespan of the trees, but the name was given to them for another reason.  Redwoods are able to propagate by sprouting from their rootstocks and by the dispersion of seeds.
A Redwood located just south of the Oregon border in California's Humboldt County holds the world's record as the tallest tree.  It was discovered in 2006 and is named Hyperion.  To give you an idea of how tall this 380-foot evergreen is, Hyperion would tower a full six stories above the height of the Statue of Liberty.  To protect the tree, it remains in an undisclosed location somewhere in the Redwoods National and State Park.
Redwoods live for centuries because they are well protected against natural enemies that strike down other trees.  They have tannic acids to protect themselves from disease and insect infestations.  You can feel their thick, fibrous bark that protects them against wildfire.  They are also extremely resilient.  The base of a Redwood can be hollowed out by fire while the rest of the tree continues to grow and thrive.  These trees were named goose pens because pioneers would use them as naturally formed barns to house their livestock in.
Kids will enjoy searching for one very interesting creature that lives amongst the Redwoods of Southern Oregon–the banana slug.  Named for its yellow color and banana-size body, the banana slug creeps slowly in and around the pathways amongst the trees.
Get packed for a Golfing Getaway your entire family will enjoy!
Walk the fairways in the morning and the pathways through the Redwoods later in the day.  Our staff at the Resort at Eagle Point will help you plan the perfect outdoor recreation getaway for you and your guests.  We're located in the heart of Southern Oregon and centrally located near many popular destinations.  Our staff will work with you to coordinate visits to places like the Oregon Shakespeare Theatre, white-water rafting excursions, skiing or hiking at Mt. Ashland, local wineries and breweries, and the House of Mystery.  Just let us know what types of activities your family enjoys, and we'll help plan your itinerary.  Call us at 541-879-3700 for more information and to book your reservations today.