Are you feeling lucky about your golf game? It's time to sign up for a fun, St. Patrick's Day-themed tournament. Find a partner, pull out your finest green outfits, and prepare for a bit of competition. Here are all the details about the event. You won't need advice from a leprechaun or a four-leaf clover to succeed in the 2023 Shamrock Shamble–just a fun golfing teammate!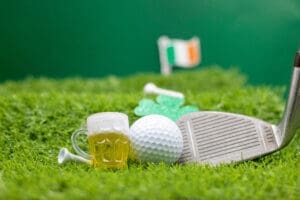 2023 Shamrock Shamble
Date:  Saturday, March 11, 2023
Time:  9 AM Shotgun Start
Location:  Eagle Point Golf Club, 100 Eagle Point Drive, Eagle Point, Oregon
Format:  2-Person Teams
Entry Fee:  $50 members / $75 non-members
Don't let this opportunity pass you by. The registration deadline is 5:00 PM on March 8. Stop by the pro shop or call us at 541-826-8225 to sign up!
What is a shamble tournament?
If you haven't played in a shamble before, you've been missing out! A golfing shamble tournament is a golf tournament format that combines elements of a scramble and a regular stroke play. In a shamble, each player in a team (in this case, a twosome) hits a tee shot, and then the team selects the best tee shot among them. From that spot, each player hits their own ball, and the team counts the best score among them. This means that each player plays their own ball from the selected tee shot, and the team's score is determined by the lowest score among the players.
This allows each player to contribute to the team score and adds an element of individual play to the format. It's an excellent way for players of all skill levels to contribute to a team score in a fun and social atmosphere. Why not give it a try with our 2023 Shamrock Shamble tournament this month?