Are you feeling that despite your best efforts, you're just not improving your golf score as you'd like?  Many golfers get discouraged because they're not performing up to average, let alone on a path to compete like their favorite PGA Tour player.  If you're feeling like your golf performance stalled and isn't getting better, we have some simple techniques you can use to get on track.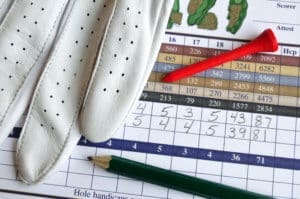 What is an average golfing performance?  The USGA reports the average score for recreational golfers to be 91 on a par 72 golf course.  However, they estimate a margin of error of about ten since most golfers are not keeping track of their scores consistently and feel an actual average is closer to 100.  Regardless, if your average score isn't where you want it to be, we have a few tips you can use.
Focus on the Fundamentals. 

No matter how many times you've hit the course this year, it's essential to always keep the fundamentals in the forefront of your mind.  Make it a habit to review your grip, stance, and posture every single time you prepare to swing.  Have a buddy video your swing or set up a few sessions to work with a golf instructor to ensure you have these basics down solid and use them consistently.

Use the Right Ball.

 Not all golf balls are the same.  Some are designed for beginners, while others are constructed for pros.  Talk to the staff in the pro shop and select golf balls that are most suitable for your level of play.  A 2-3 piece ball with low compression and low spin works well for average golfers.

Address Performance Issues that Matter.

 It's easy to get fixated on what we think is the issue with our golfing game.  Perhaps you think your swing is off, or your putts are not perfected.  However, it's a good idea to work with an instructor to have them evaluate what's really going on with your game and give you exercises that will help you improve.  They will be able to see things about your performance that you don't.  Many golfers who aren't improving as much as they'd like simply have never had professional instruction and aren't working on the skills that will make a significant difference.

Keep Realistic Expectations.

 It's easier to improve when your scores are further from average, but as you improve, it gets much harder to get your score down.  Many golfers reach a point where they feel they aren't getting any better when in reality, it's just going to take longer to see more improvement.  Give yourself time to reach your goals, and if you're feeling stuck, talk with a professional instructor to evaluate what's going on with your game.

Golf More Often.

  It's easy to compare yourself to professional golfers on television or even in local tournaments and feel they're much better at the game, but you have to consider how much time they spend on the course.  A PGA Tour player might spend

3 to 4 hours a day

just working on a few techniques, let alone playing a full round of golf.  The more golf you can play, the better you will get.  If you can regularly hit 100 balls at the driving range, you'll see your swing improve.  If you can golf at least twice a week, you're more likely to see your score begin to lower.
Learn more simple techniques to improve your game at our Eagle Point Golf Club Academy.
We encourage our members and guests at the Eagle Point Golf Club to take advantage of personalized tune-up sessions.  These mini-lessons are designed to help golfers warm up and fine-tune a handful of skills before hitting the greens.  During a session, we'll introduce you to some easy warm-up exercises designed to achieve balance and alignment on the course.  
Next, one of our professional trainers will observe your swing in a few different scenarios.  We'll pinpoint specific issues getting in the way of your game, such as aligning the perfect swing on the chipping green.  Next, we'll introduce a few simple exercises for you to practice to perfect your short game.  By targeting just a few critical items, you'll be headed to your game in no time with a manageable number of techniques to practice.
If you're ready to take your game to the next level, call the Eagle Point Golf Club at 541-826-8225 to inquire about golf lessons.  We're excited to see your game improve!