There are many fun stories about golfing legends, including how they earn honorary nicknames. Jack Nicklaus is one of the most famous and accomplished golfers of all time, with a career that spanned over three decades and included 18 major championship victories. But along with his impressive achievements on the golf course, Nicklaus is also known for his distinctive nickname: "the Golden Bear."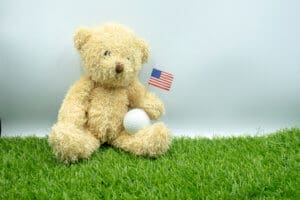 The origins of Nicklaus's nickname as the Golden Bear, are somewhat mysterious, with several different stories circulating about how he acquired it. One of the most commonly cited stories is that the nickname was coined by a sportswriter named Don Ward, who was struck by Nicklaus's burly physique and blonde hair, which reminded him of a bear. Ward reportedly first used the nickname in a 1961 article for Golf Digest, and it quickly caught on among Nicklaus's fans and fellow players.
Another popular story about the origins of the Golden Bear involves a friend of Nicklaus's named Charlie "Chubby" Winters, who noticed that Nicklaus's initials, J.N., resembled the words "Golden Bear" when written in script. According to this story, Winters began using the nickname to refer to Nicklaus in private, and it eventually caught on among his other friends and associates.
A third possible explanation for the nickname is that Nicklaus himself chose it after visiting the Columbus Zoo in his hometown of Columbus, Ohio, where he saw a bear that was painted gold for an exhibit. Nicklaus reportedly liked the idea of being associated with a powerful and majestic animal and began using the nickname shortly after that.
Regardless of the exact origins of the nickname, it quickly became associated with Nicklaus's formidable golf skills and larger-than-life personality. "The Golden Bear" was a fitting moniker for a player known for his imposing physical presence on the golf course and his impressive record of victories and championships.
See what nickname you can earn at the Eagle Point Golf Club!
Pull out your clubs, find your golf shoes, and make a tee time for your next round at the Eagle Point Golf Club. It's time to get onto the greens and practice your swing on the fairway. Plus, make sure you stop by and enjoy a meal at the Talon Grill–we've got new dinner specials all the time! We can't wait to see you!